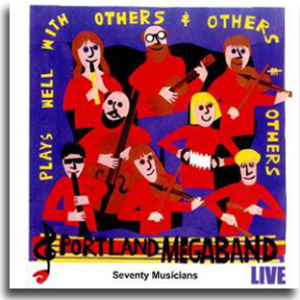 The Portland Megaband: Live
© 2002 14 tracks / 36 tunes (30 tunes in the Portland Collections) / 73:59 total time / $15.00 / Listen to sample tracks

$15.00 Add to cart
To order by mail, click here
"Over 70 band members ranging from beginner to professional commit to practicing for 2 months before their big gigs, a benefit dance, in Portland each year, and every other year at the Northwest Folklife Festival in Seattle. And what kind of sound do they make? It's big and happy; it's danceable; it's surprisingly together music."
– Country Dance and Song Society News, January/February 2003
The Portland Megaband: Live
This CD was recorded at the annual Megaband contra dance in Portland, Oregon, March 9, 2002. Seventy musicians played at this event: 30 fiddles, 10 mandolins, banjos, and autoharp, 7 whistles, flutes, recorders, 3 concertinas and accordions, 2 clarinets, 2 saxophones, 3 hammer dulcimers, 9 guitars, 4 percussionists, keyboard, bass, and harp. Although the tune sets here have been edited to fit the time allotment of the CD, many transitions within and between the tunes have been left intact to retain the feel and flow of an actual Megaband dance. The Portland Megaband has a tremendous range of sound from flashy solos to quiet harmonies, to powerful wall-of-sound crescendos. Dancers are driven to paroxysms of delight by the tight, precise playing of this contra dance orchestra. We hope that the listener will experience this same energy and excitement upon hearing this recording.
The all-volunteer Megaband is open to any musician, on any acoustic instrument, at any experience level from veteran to beginner, who enjoys playing contra dance music (lively fiddle music with Celtic, Québécois, New England, and Appalachian roots) to propel dancers up and down the floor in the course of an evening's dance. Band members range from high school students to grandparents, all united in having a great time with the music.
About The Portland Megaband
The Portland Megaband is an all-volunteer contra dance band open to any musician on any acoustic instrument at any level of experience. Since its inception in 1997, it has grown to around 75 players who range in expertise from rank beginner to contra dance veteran. The only requirements for participation in the band are a willingness to attend rehearsals and to play with enthusiasm. The band plays a benefit dance in Portland once a year for the Portland Country Dance Community (usually the 2nd Saturday in March) and every other year at the Northwest Folklife Festival in Seattle. Megaband tune sets are assembled by organizer/director Sue Songer with input from band members. Organized rehearsals begin two months before the yearly gig, and they are mostly devoted to learning to play as a group and working out some arrangements. Much of the arranging, however, occurs spontaneously at the dance, where Sue Songer and Gordy Euler, who alternate conducting duties, use elaborate hand signals to bring in harmony lines, control dynamics, and determine which section should be featured the next time through the tune. It adds up to a very special evening of contra music and dance which is much anticipated by dancers in Portland and surrounding communities.

Audio Clips
*Since the release of this recording, we have learned correct titles for these tunes:
The Boats of Killaloe correct title is: Munster Buttermilk
Bob Olsen correct title is: Hey Little Girl, Do What I Tell You
Hommage à la Belle Gaspésie correct title is: La Belle Gaspésie
Martin Hayes correct title is: The Hairy Dogleaf
Ernie Healy's correct title is: Poor But Happy at 53