Contra Dance Music Resources
Contra dance music is lively and propelling, serving the purpose of driving and energizing dancers as they move up and down a dance floor in simple, called patterns, interacting with a partner, another couple, or another individual along the way.
The music is rooted in Celtic fiddle traditions, which probably originated in Ireland and Scotland two or three hundred years ago. Over the course of the centuries, the music has filtered through the British Isles and North America, adapting to and taking on the flavors of the music in the areas where it was played. Distinct regional styles emerged, frequently applied to the same Celtic melodies. Today, contra dance music derives very directly from this traditional music in Ireland, Brittany, Québec, Cape Breton, New England, Appalachia, and other regions of North America. In addition, contemporary musicians in all of these regions as well musicians from the contra dance community compose new tunes, which are incorporated into the repertoire.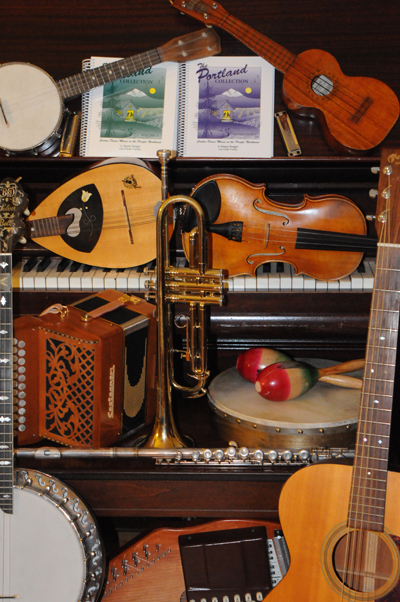 Fiddle is usually predominant in a contra dance band, but in fact a wide variety of instruments are well suited to playing this music. A typical contra dance band is comprised of three to five musicians on fiddle, guitar and/or piano, accordion, mandolin or banjo, and flute or whistle. In addition, basses, cellos, saxophones, clarinets, trumpets, trombones, autoharps, hammer dulcimers, ukuleles, all kinds of percussion, and many other instruments are a part of many contra dance bands. Some dance communities have large contra dance orchestras that come together to play for dances a few times a year.
Contra Dance Music Web Sites
Articles about Playing for Contra Dances
Fiddling for Old Time Contra, Square, and Couples Dances
Ecstasy at the Contra Dance
So You Wanna Play Dance Music
Notes on Playing for Contras
Accompaniment
What Makes a Good Contra Dance Band
Where You Can Learn to Play Contra Dance Music
Check in your own community to see if there are any contra dance sessions you can join. Many musicians learn tunes and gain facility on their instruments by attending music camps and festivals. Here are a few of the many that can be found all across the United States and Canada.
In Portland
Become a member of the Portland Megaband, one of the World's Largest Contra Dance Bands
In the Northwest
Festival of American Fiddle Tunes
Centralia Campout
Old Time Gathering
Alaska Folk Festival
Northwest Folklife Festival
Around the United States
Festival of American Fiddle Tunes
Rocky Mountain Fiddle Camp
Valley of the Moon
Ashokan Fiddle and Dance Camp
The Swannanoa Gathering
New England Folk Festival Association
Pinewoods
BACDS Camps
Contra Dance Events (at the John C Campbell Folkschool)