About The Editors: Sue and Clyde
Sue Songer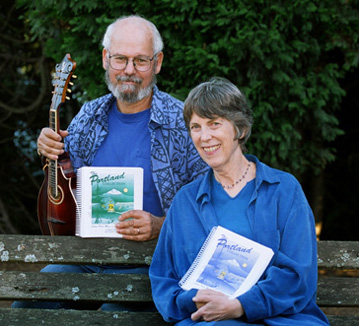 Sue Songer, of Portland Oregon, has enjoyed music as long as she can remember. In grade school, she played piano and eagerly participated in square dancing during P.E. classes. She played folk songs on guitar with informal groups during and just after college. A hiatus came when family and work responsibilities did not seem to leave time for music or dance pursuits. Then in 1986, Sue discovered contra dancing, loved it immediately, and found a way to fit it into her world. In 1989, she took up fiddle and revisited the piano. Since the early '90s, she has been playing both instruments regularly for contra and English dances, although piano is now prevalent. She plays all over the Northwest and occasionally in California and New England with many different musicians. She has been a tutor several times at The American Festival of Fiddle Tunes, was a member of a CDSS Centennial Tour team, and has played dance weeks and weekends up and down the West Coast.
Sue is founder and director of the Portland Megaband, a volunteer orchestra of 75 dance musicians that plays for a special contra dance in Portland once a year and every other year at the Northwest Folklife Festival in Seattle. (This band has recorded two CDs, The Portland Megaband: Live, and A Beneficial Tradition). Drawing from the Megaband experience, Sue travels to other dance communities to work with local musicians in an open band format.
Sue's Bands:
Joyride
The Portland Megaband
The Stage Crew

Clyde Curley
Clyde Curley has been playing folk music since high school, but his passion for fiddle tunes was first sparked by exposure to string band music in his San Francisco college days in the 1960s. After moving to Oregon in 1970 to begin his high school teaching career, he played in a number of bands that focused on a variety of musical styles. It wasn't until he arrived in Portland in 1986 and took up the mandolin with Jigsaw and the fiddle with the Rose City Aces that he pursued playing for contra dances in earnest. Since then, he has appeared on stages at local dances all over the Pacific Northwest and at festivals and camps beyond. An experienced teacher of this music, he has taught fiddle, mandolin and guitar workshops in multiple stints at venues as varied as the Bay Area Country Dance Society's Family Week, Port Townsend's Festival of American Fiddle Tunes, Coeur d'Alene's Lady of the Lake Dance Camp—and many more.  In addition to his Portland Collection recordings and an album with the Jigsaw band, he produced a mandolin-centered CD, Clyde Curley and the Oxymorons, as well putting in appearances on other recording projects. Clyde retired from high school English teaching in 2001 and moved to Bellingham, Washington, where—musically—he devotes his energies to exploring mysteries of old-time and French Canadian fiddle styles and—literarily—constructs the murder mysteries confronting Detective Matthews Toussaint in a series of detective novels set in Portland. (For more on Raggedy Man and A Cup of Hemlock, go to: www.clydecurley.com ) His longest and closest musical alliance continues to be with his piano-playing wife Susan, with whom he plays waltzes, Swedish music, and the occasional contra dance.
Clyde's Bands:
The Noodles
Toad Mountain Ramblers
Group du Jour
The AlphaBeats